A comprehensive guide to applying for City of Ottawa Sign Permits
Need a new sign for your business but don't know where to start? Reaching out to Sign Art Studio is a great first step. We can offer guidance about whether a sign permit is required and guide you through the process from technical drawings to applications, fees, and dealing with the City of Ottawa.
Here are the most common questions and answers we get from customers about Ottawa sign permits:
1) Ottawa Sign Permit Requirements:
To obtain a permanent storefront sign in Ottawa you need to meet several requirements including:
Installation and construction details

Specs for your sign including dimensions, weight, and protrusion

Photos of site

Building code inspection

Elevation drawings

Submit a permanent sign application
These details help the City of Ottawa regulate permanent signs to ensure the signs will be constructed and installed to code.
*Note: Before deciding whether you need a sign permit please be sure to check the City of Ottawa's by-law regulations to make sure your business conforms.
2) What type of signs do not require a permit?
The City of Ottawa allows for a variety of signs to be installed without a permit, these include:
Mural sign;

Ground sign, if the sign face is horizontal to and flat on the ground

Non-illuminated information sign that is less than 1 m²

;

Non-illuminated window sign

Wall sign located on a temporary sales centre building

An illuminated window sign, limited to "open/closed" or "vacancy/no vacancy"
Additionally, if you are using an existing storefront or pylon sign and are simply replacing the existing vinyl graphics with new graphics, typically you do not need a permit.
Note: If you think you do not need a permit, make sure to consult the City of Ottawa's permit exemption by-law first. You can view it here.
Note: If you think you do not need a permit, make sure to consult the City of Ottawa's permit exemption by-law first. You can view it here
3) What type of signs are prohibited in Ottawa?
The City of Ottawa has very specific criteria for what type of signs are prohibited, including:
Signs affixed to a shed, tree, pole, fence

, another sign or any other structure if that sign is visible from either a highway or a private road;
Signs that initiate, resemble or could be mistaken for traffic control sign
Signs that obstruct view of vehicle or pedestrian traffic 

Note: You can view full details on the City of Ottawa's prohibited signs here
4) What are the Ottawa sign permit application fees?
The City of Ottawa has a range of sign permit fees depending on the application. You can view the full list 2021 fees here. 
The most common sign fees include:
Permanent Sign Permit ($392)

If you submit through e-portal fee is $349

Digital Menu Board with Changing Menus ($456)

Bed and Breakfast ($218)

Home-based business ($218)

Static Billboard ($2187)

Digital Billboard ($2899)

Directional Development Sign ($392)

Home Builder Way-Finding Sign Permit ($1305)
Note: These fees change each year, the fees listed above are for 2021.
5) How long will it take to get a sign permit?
The timelines for getting approval of your sign permit application will depend on the scope of the project, the quality of the submission / technical drawings, whether the City needs to seek additional information or clarification, and potential processing delays related with high demand and/or COVID closures. However, the typical turnaround time for sign permit approval is 2 weeks – 1 month.
6) Ottawa Sign Permit Application Forms
The City of Ottawa has two Sign Permit forms that must be filled out.
It requires contact information for the Property Owner, Tenant, Contractor (Sign Company) and the Sign Owner along with the type of Sign Application
This form requires details on  the sign use, type, illumination and dimensions.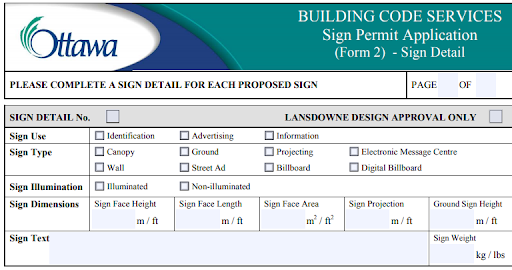 City of Ottawa Sign Permit Office Hours and Contact Info:
If you have further questions on the City of Ottawa's sign permit process or wish to submit an application in person, you reach the city here:
City of Ottawa Addressing & Signs – 613-580-2424, ext. 41162, addressingandsigns@ottawa.ca
Where can I get a new permanent storefront sign?
If you are looking at getting a new sign, contact Sign Art Studio. We would be happy to discuss your signage needs, walk you through the process, and provide you with a quote. Simply submit a request using the form below and will be in touch as soon as possible.